Give your customers outstanding service. That's the key to small business success.
Yet running the business (scheduling, billing, marketing, and day-to-day administration) gets in the way of doing what business owners love most, serving their customers.
Front Desk is ready to help. On-the-go small business owners can run their businesses from anywhere and reduce the headaches and the overhead with Front Desk, comprehensive business management software for small businesses.
Coming in March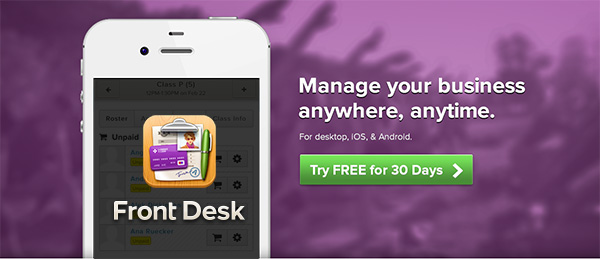 Using smart phones, tablets, or desktop computers, businesses without a physical "front desk"—like personal trainers, piano tuners, massage therapists, tutors, counselors, yoga instructors, and dog walkers—can manage their schedules, handle payments, store documents, and launch and update their websites where clients can make appointments and purchases.
Jon Zimmerman, Front Desk cofounder and CEO, explains the inspiration for Front Desk:
As small business owners ourselves who either cobbled together solutions or struggled with complex desktop tools, we started out with a single focus: to provide our staff and clients with intuitive mobile tools to smooth administration, save time, and improve satisfaction. We quickly discovered that many other small businesses had similar needs and leaped at the opportunity to really help small business owners spend less time doing administration and the kinds of things they needed to do to grow the business and spend more time doing what they love, which is working with clients.
Quick setup
The Front Desk team is very familiar with the time pressures faced every day by small business owners and has focused on minimizing the effort required to get set up with an account and start seeing benefits quickly.
Pricing that works for everyone
What's the cost? As little as 1 percent of revenue. Pricing of more comprehensive plans is based on the number of staff.
Key features
Mobility Manage Front Desk from any smart phone, tablet, or desktop computer with Web access.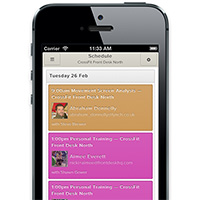 Scheduling Check your schedule and book appointments from anywhere, at anytime.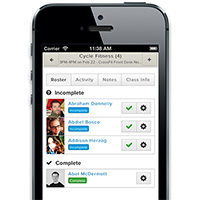 Attendance Quickly take attendance, update the class roster, and verify class counts.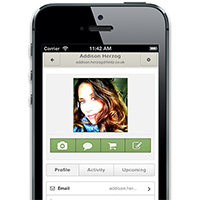 Relationship Management Store and update client profiles and history, photos, notes, schedules, and appointments directly on your mobile device.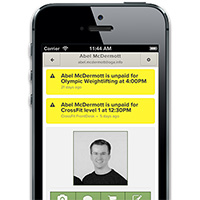 Billing Alerts Get notified of billing and contract issues so you can quickly contact clients to address problems before they get expensive.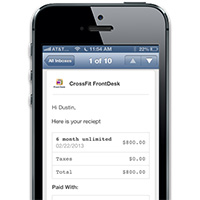 Proactive Notifications Send notifications, offers, and updates directly to your clients' mobile devices.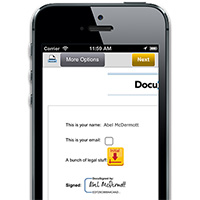 Digital Documents Save time and money by having clients sign waivers and contracts online before they come to class.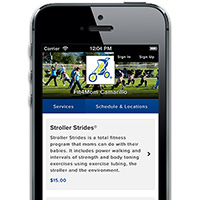 Online Registration Let clients manage class and event registration, appointments, and accounts on their smart phones.
Payments Accept secure payments from clients for services, appointments, courses, workshops, events, and classes right from their mobile devices
using a variety of payment methods including credit card and PayPal.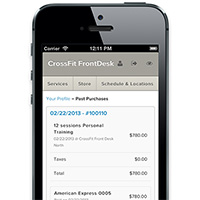 Client Self-Service Let clients review their recent attendance records, receipts, and purchase histories. Members can update their contact details and manage other important info from their mobile devices.
Want to be notified when Front Desk is available?